How To Boost Your Facebook Likes To 10k Without Spending A Dime
INTRODUCTION
This days people can go extra miles just to get likes, comment and shares on facebook, some even go as far as buying likes yes it the fact so today I have taken a research on how you can boost your like to no maximum with a zero account balance.
I urge you to read intensively so you won't miss a step I promise at the end of this post your likes will increase with a great margin.
LETS TAKE A QUICK LOOK AT WHAT IS FACEBOOK LIKES
Facebook likes are reaction button embedded by facebook to individual posts it's a simple reacting to an interesting post, but this days we have read a different meaning to it.
We now see people with huge likes as the most famous or rather the wealthiest well I don't see it as such am not even a facebook lover but in the blow paragraph you will learn how to boost your posts like to no maximum.
HOW IT WORKS
Just as I went on a research I got different ways to boost our like, comment and shares but none was as effective as this :
Like4like
: I tried this and I got roughly 500 likes on my page in just a day isn't it amazing?
Yes it is all you have to do is complete few and very easy tasks and you will earn point which in turn you will use to place your own task and get it done in few hours / minutes.
HOW TO GET STARTED
Getting started is free and easy all you have to do is follow my very easy guide:
Tap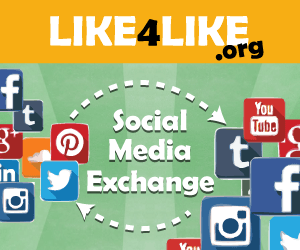 and register with your email username and password and boom you are on board.
HOW TO COMPLETE TASKS ON LIKE4LIKE
Completing tasks here are easy and self explanatory, here is a guide
2. Tap the three lines at the top right corner
3. Click earn points
4. Select from the drop down the kind of tasks you will want
to complete in other to earn points
5. Lets use facebook as an example tap facebook
6. And select the kind of tasks you want to complete for example facebook likes
7. Then you will see tasks all you have to do is tap the task it will take you to facebook the just give the post or page a like then click back on your phone it to take you back to
like4like
click confirm on the task and proceed to others.
I will recommend you go for youtube taks as they pay more then after completing then use the coin to place your facebook tasks for as low as 2 to 3 points per like.
HOW TO PLACE YOUR TASKS ON LIKE4LIKE AND GET
LIKES
After you must have gotten few coins now its time to get people perform your own tasks
1. Click add and manage tasks
2. Select from the lists what you want e.g facebook likes (it's the first option)
3. Paste the link to your post in the box labeled facebook URL
4. And your description in the second box
5. Then select the country you would like to get likes from
6. Then set the amount of coins you are willing to pay per like I suggest you take 5 for faster results
7. Then click add url boom you will start getting likes asap and you can keep doing tasks so you don't run out of coins.
CONCLUSION
Like4like
has over 1 billion active users and I consider it as the best
Register with this link now and boost up your social media presence .
Thanks for taking your time to read this use the comment box for your questions and reactions
Always re-visit nairavilla